Historical & Educational Organization
Representing all U.S. Wars from the French & Indian to the Present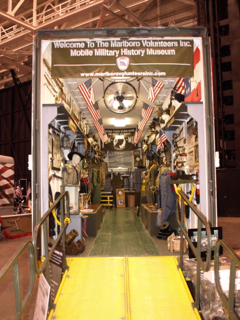 The Marlboro Volunteers, Inc. is a charitable Non-Profit Organization 501c[3](U.S.) Military History and Educational Organization based in Marlboro, Ohio. We are not affiliated with any other organizations.

The group is comprised of "volunteers" who give of their time, talents, energy, and life experiences to honor the men and women of the Armed Forces of the United States of America, from the French & Indian War to the Present.

We complete our Mission Statement through educational and historical presentations by our members and via our Mobile Museum of U.S. Military History.

We also present historical displays of U.S. Armed Forces' vehicles, weapons, and uniforms. In addition, we participate in community parades and many U.S. Military History events and programs throughout the year.

Experience Revolutionary War, Civil War, WWII, Vietnam, and modern day soldiers. For the most complete U.S. Military History & Educational experience, join the Marlboro Volunteers Inc. as we bring U.S. Military History to life with an experience you will never forget! Visit our traveling museum, talk to our war veterans and our living historians!